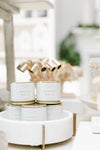 Winter White Holiday Tin Candle - Small
Shipping calculated at checkout.
There's nothing better than a holiday scent throughout your home this time of year! We love this adorable tin candle as a stocking stuffer idea, guest bathroom candle, or part of a hostess gift. 
3 oz
3.6 x 3.5 x 9.5
Scent: Aromatic evergreen and frosted cypress are dusted with white peppercorn, spicy-cool cardamom and a sparkling citrus nuance.