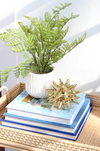 Coastal Blues Coffee Table Book
Shipping calculated at checkout.
Coastal Blues: Mrs. Howard's Guide to Decorating with the Colors of the Sea and Sky is a must-have book for any lover of coastal design.  Interior designer, Phoebe Howard, shares her expertise to create a coastal look at home, using shades of blue.  With page after page of dreamy photography of beach houses, seacoast getaways, vacation cottages, and luxurious seaside manors, this book will fill you with inspiration.

Product Details:
By: Phoebe Howard
Publisher: Abrams
Hardcover: 272 pages

Dimensions: 10" L x 

8.5" W x 1.2" D