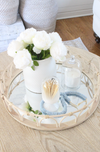 Home Beads - Baby Blue
Shipping calculated at checkout.
When you're looking to finish off a small space, usually our home beads will do just that! They add in an extra layer of dimension and interesting texture and can be draped over a pile of books, in a bowl, etc. 
4 x 14mm bead