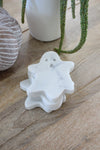 Marble Ghost Coaster Set
Shipping calculated at checkout.
If you love the fall but don't want to go overboard, add a touch of fun with these adorable white marble ghost coasters. They'll elevate your fall decor while keeping your favorite cocktail safe. Gift these and be a sure hit! Set of 4. Please note these will ship or be available for pick up by 9/7.