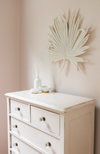 Maui Island Wall Art
Shipping calculated at checkout.
This beautiful textured palm is a beautiful wall accent for bedrooms, bathrooms, small accent walls and more. It can be also used as a decorative tray for your coffee table.
20.5"h x 19"w x 2"d, Resin. Please note this item does not ship at this time.