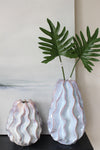 Split Leaf Selloum Stems
Shipping calculated at checkout.
A fun twist on monstera leaves, these split leaf stems are great for adding a pop of green to your space. Choose from two sizes - mix and match or group together.  Realistic to the touch & vibrant real-life color.
Heights:
Large:35.5
Small: 28.5"